Anti-Stretch Marks Lotion with Almond Oil Barral MotherProtect - 200ml
Brand: Barral
Product Code:

MM-LAEBM200

In stock
​ Almond Oil Lotion is indicated in the prevention of stretch marks. Decreases the visibility of existing stretch marks Deeply hydrates and i.. See More
​
Almond Oil Lotion is indicated in the prevention of stretch marks.
Decreases the visibility of existing stretch marks

Deeply hydrates and increases skin elasticity
Properties:
Stretch mark prevention (day)

daily hydration

fast absorption

more fluid
Application:
Apply 1-2 times a day on the skin of the entire body, especially in areas of distension such as the breasts, legs and belly.
To prevent stretch marks for longer, keep the application postpartum.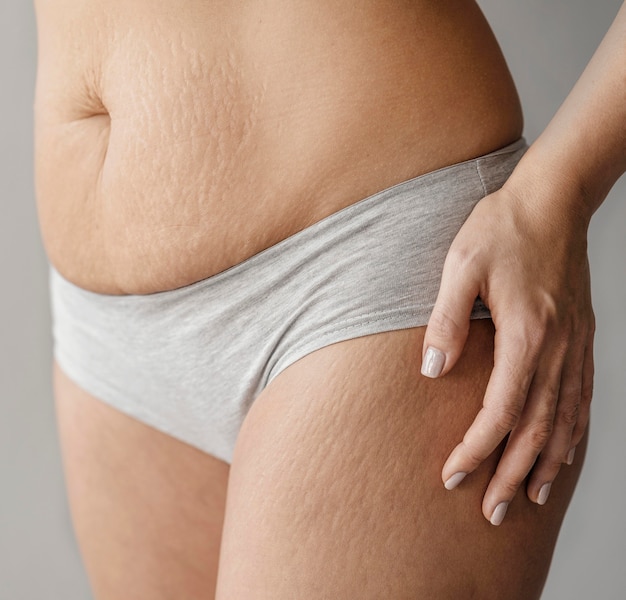 Main Ingredients
Almond oil: has unique softening and moisturizing properties

Pantrophin OLV: active ingredient derived from olives with remarkable emollient, softening, anti-redness and restructuring properties

Vitamins E + F: have antioxidant properties and restore the skin's hydrolipidic barrier
Composition:
Almond Oil, Pantrophin® OLV, Vitamin E and F.
Proven results:
'+38% hydration*

'+15% elasticity*

'+12% Stretch mark reduction*
2x more hydration than top competitors**
2x more effective in reducing the visibility of stretch marks than leading competitors**
*Evaluation of skin tolerability, efficacy and acceptability to the cosmetic product, through a comparative clinical test. at the. 1701H22FC3* (Milan January 2019)
** Instrumental study carried out in people with skin without pathology and recent stretch marks. n=60 (data on file).
Dimensions:
Width: 6.0cm

Height: 12.0cm

Depth: 5.0cm
Additional information
Science at the service of pregnant women's skin
During pregnancy, it is essential to ensure that the skin receives the necessary nutrients to become more elastic and resistant to the pressure to which it is subjected. When the fibers that support the skin (Elastin and Collagen) stretch too much, they break and cause stretch marks. Barral MotherProtect is a range of products developed specifically for the skin of pregnant women and new mothers.
prevent stretch marks
Although it is perfectly natural to gain weight during pregnancy, it is also necessary to maintain control so as not to gain excess weight. The ideal is to gain between 9 to 12 kilos during the 9 months of pregnancy; that is, a maximum of 1 to 1.5 kg per month. Eating a balanced diet can also help prevent stretch marks.
Foods rich in vitamin C (pepper, kiwi, papaya, orange, broccoli, cauliflower) stimulate the production of collagen.

The vitamin A (present in the liver, carrots) also makes an important contribution to preventing skin dryness.

Vitamin E helps the body to optimize the use of vitamin A, enhances skin hydration and prevents damage caused by UV rays. Sunflower seeds, olive oil, hazelnuts, peanuts, seeds, whole grains and green leafy vegetables are the main sources.

In general, you should favor fruits and vegetables (as long as they are washed very well) and avoid fried foods, excess salt and sweets.

Do not wear tight clothing, as it makes local circulation difficult, and choose comfortable underwear that supports the belly and chest, in order to relieve tension.

Drink plenty of water, about two liters a day, to help keep your skin hydrated and eliminate toxins.

Do regular physical exercise appropriate to the pregnant woman's condition. Simply walking helps to keep fit, while improving blood circulation and oxygenation and nutrition of skin cells.

Getting to know your skin in pregnancy
During pregnancy, taking care of your skin's hydration and elasticity is essential. Learn about other changes in your skin and body that can happen in this very special period:
pregnancy mask
Also known as melasma or chloasma, the pregnancy mask consists of spots that appear on the face of the pregnant woman, being more frequent on the forehead and cheeks. It is caused by the increase in the melanin deposit in the skin of the face that occurs during pregnancy. To prevent this side effect of pregnancy, wear a hat and sunscreen in summer and winter, in order to protect the face from sun exposure, which is responsible for increasing the appearance of these facial spots.
Shine
The pregnant woman's body produces about 50% more blood than in its normal state, resulting in greater blood circulation. This factor, combined with an increase in the production of hormones by the sebaceous glands, leads to an unusual glow of the skin.
Acne
For those who are usually affected by acne, it is natural that, during pregnancy, the problem gets worse due to the sebaceous glands that expel more oil, causing pimples. Thus, a daily facial cleansing routine is necessary, morning and night, using a cleansing milk.
Varicose veins
Varicose veins affect the legs of many pregnant women. These are large bluish veins that appear due to the extra blood flow that the body produces for the baby. Varicose veins can cause discomfort and sometimes pain. Increase rest periods a little, preferably with leg elevation in case of swelling.
​

​
​