Acorelle Lip Sunscreen Balm SPF30 - 4g
Brand: Acorelle
Product Code:

MM-PSL30

In stock
Acorelle Lip Sunscreen Balsam SPF30 - 4g, natural protection with double action: sun and anti-aging. Ecological Cosmetic certified by ECOCERT .. See More
Acorelle Lip Sunscreen Balsam SPF30 - 4g, natural protection with double action: sun and anti-aging.
Ecological Cosmetic certified by ECOCERT
Quantity: 4 grams

Moisturizing formula, leaves lips soft:
Water resistant and respectful of the marine environment.

High protection (SPF 30) from the sun thanks to the mineral sunscreen.

No zinc oxide

Moisturizing formula, leaves lips soft.

Fragrance free

Suitable for children's sensitive skin.

Ecological Cosmetic certified by ECOCERT
Active Ingredients:
100% mineral filter: titanium dioxide.

Pollen & Bio Propolis: active antioxidant that fights free radicals.

Organic Karanja Oil: nourishing and protective. With antioxidant properties that protect the skin from external aggressions such as the sun.

Olive and strawberry oil: nourishing.

Organic turmeric extract: nourishes and anti-aging properties.
Recommendations for use: Apply sufficient amount of the product before exposure to the sun. Apply the product again, especially after swimming and sweating.
Recommendations for use:
Apply sufficient amount of product before sun exposure. Apply the product again, especially after swimming and sweating.
Apply the product in sufficient quantity to the lips before exposure to the sun. Decreasing this value can reduce protection. Reapply frequently to maintain protection, especially after swimming, sweating or drying. Don't swallow. Apply to healthy skin. Choose a protection factor that suits your skin type. Don't spend too much time in the sun, even if you're wearing a sunscreen, and avoid exposing yourself between 12:00 and 16:00. Overexposure to the sun is a serious health threat. Not suitable for children under 3 years old. Do not expose babies and children to direct sunlight. Wearing a hat, sunglasses, and protective clothing is strongly recommended during exposure.
A formula that respects your health
This Lipstick FPS30 offers high natural and immediate protection against UVA and UVB rays, thanks to its 100% natural mineral filter. Its effectiveness is proven by standardized tests in vitro and in vivo adapted to mineral filters.
A combination of protective active principles and antioxidants that protect against premature aging of the thin skin of the lips and against dryness and damage caused by ultraviolet rays: Api Oléo ActifTM, a patented complex resulting from a synergy of Pollens and Propolis that fights against free radical formation and organic Karanja oil, used in Ayurvedic medicine for its extraordinary properties.
The formula is also enriched with organic Shea Butter with nourishing properties, Organic Turmeric Extract with nourishing and protective properties, and Raspberry Seed Oil that nourishes and softens the skin. During exposure, the lips are protected and hydrated.
A new formula that brings comfort and flexibility
The creamy texture is easy to apply and leaves a protective and nourishing film on the lips and small areas of the face, on the beach or in the mountains. During exposure, the lips are protected and hydrated, for a feeling of lasting comfort. Lightly colored and non-sticky, this stick is water resistant to make the most of your summer activities. Formulated without perfume, respects sensitive areas of the lips and face.
This compact, nomadic lipstick shape offers precise application with its beveled tip and can be taken anywhere.
And to protect the rest of your face, opt for our SPF50 face sunscreen or our colorful sunscreen that will give you a natural, healthy glow (light-colored face sunscreen SPF50 or golden-colored face sunscreen SPF30).
Protecting our environment: a priority
Each ingredient was selected for its biodegradability, and the formula does not contain petrochemical derivatives.
The non-synthetic mineral filter respects the marine flora and its biodiversity. In fact, the Titanium Dioxide we use is coated with an inert, hydrophobic material that stays on the surface of the water and does not affect the health of the corals.
This year, we decided to join the 1% for the Planet network, an international network of companies, associations and individuals committed to the planet. 1% of our solar range turnover will therefore be donated to the Surfrider Foundation Europe for the protection of the oceans and coral reefs.
Ingredients:
Pongamia Glabra Seed Oil *, Copernicia Cerifera Wax *, Dicaprylyl Carbonate, Titanium Dioxide, Wax Alba *, Polyglyceryl-3 Diisostearate, Aluminum Hydroxide, Stearic Acid, Ricinus Communis Seed Oil *, Butyrospermum Parkii Butter *, Theobroma Grandiflorum, Rubus Idaeus Seed Oil, Dicaprylyl Ether, Helianthus Annuus Hybrid Oil *, Olea Europaea Fruit Oil *, Propolis Extract *, Pollen Extract *, Tocopherol, Curcuma Longa Root Extract *. * Ingredient from organic farming. * Ingredient from organic farming.
* 97% of the total ingredients are of 'natural origin'. * 20% of the total ingredients are from organic farming .
* agricultural ingredients organic
98% of the total is of natural origin
69% of the total ingredients are from organic agriculture
Active principles explained:
PONGAMIA GLABRA SEED OIL*: Organic Karanja Oil with antioxidant and protective properties.
DICAPRIL CARBONATE, DICAPRIL ETHER: emollients of natural origin.
COPERNICIA CERIFERA CERA *: Carnauba wax of natural origin used as a thickener and texturizer.
TITANIUM DIOXIDE: Titanium dioxide, 100% natural mineral filter, which reflects UV rays and does not penetrate the skin barrier.
ALBA WAX *: Natural beeswax used as a thickener and texturizer.
BUTYROSPERMUM PARKII BUTTER (SHEA) *: Organic Shea Butter with nutritional properties.
POLYGLYCERYL-3 DIISOSTEARATE: emulsifying agent.
ALUMINUM HYDROXIDE, STEARIC ACID: coating agents of natural origin.
RICINUS COMMUNIS SEED OIL: Castor oil with emollient properties.
THEOBROMA GRANDIFLORUM SEED BUTTER: Cupuaçu butter with nutritional properties.
RUBUS (RASPBERRY) SEED OIL IDAEUS: Raspberry seed oil with nourishing and soothing properties.
EUROPEA OIL (OLIVE TREE) FRUIT OIL *, POLLEN EXTRACT *, PROPOLIS EXTRACT *, HELIANTHUS ANNUUS (SUNFLOWER) HYBRID OIL *: API Patented Oil ActifTM, powerful active antioxidant 100% of natural origin that helps fight responsible free radicals ​​by the premature aging of the skin.
TOCOPHEROL: antioxidant - vitamin E.
LONG TURMERIC ROOT EXTRACT (TUMERIC) *: Organic turmeric extract with antioxidant and protective properties.
Additional information
MEETING WITH OUR PARTNER SURFRIDER FOUNDATION EUROPE
This year, we decided to increase our commitment to the planet by joining 1% for the Planet, a non-profit organization that connects businesses and associations with projects to promote and accelerate donations for the good of our environment. . Through this network, we decided to support Surfrider Foundation Europe by donating 1% of our turnover from the Acorelle solar range. This association was obvious to us: close to home, this NGO has always been very dynamic and committed to protecting the ocean and its users. We decided to meet them in Biarritz to learn a little more about their commitments and their daily lives.
We met Raphaëlle GENOUD, responsible for partnerships with companies from Surfrider Foundation Europe.
CAN YOU EXPLAIN HOW SURFRIDER FOUNDATION EUROPE WAS BORN?
Basically, the Surfrider Foundation is an association of surfers created in 1984 in California, who were tired of seeing their playground polluted by water waste. Over time, this volunteer association grew into an NGO, and today Surfrider Foundations can be found all over the world. Surfrider Foundation Europe was created in 1990 by Tom Curren, a three-time world surfing champion, and the headquarters are now located in Biarritz. From a small association of a few volunteers, we have grown into an NGO with a European dimension with more than 45 employees.
WHAT ARE ITS MAIN ACTION LEVERS AND ITS ASSOCIATED WORK AREAS?
Surfrider Foundation Europe has 4 action levers:
Environmental awareness and education, especially on ocean protection issues, among the general public, but also among young people and schoolchildren. We have a lot of projects focused on that last goal, because kids are the next generation, the ones who will make things change.

Influence and defense with institutions, but also with the private sector. We will lobby to change the laws, at European and national level. We also support companies to adopt best practices in everything related to protecting the oceans.

Mobilizing the Surfrider community: employees, volunteers, members and supporters.

Expertise and "participatory science", namely all the field data that we collect thanks to all the projects carried out by our volunteers in the field, which will allow us to accumulate data (for example on the type of waste found, its quantity, etc. . ). All this data will go to Surfrider's headquarters.

Regarding the work axes, there are 3:
- The fight against marine litter:
the best known line of work and for which Surfrider Europe was created. Every year, between 8 and 10 million tons of waste ends up in the ocean: suffocation of marine mammals, suffocation of the oceans and danger to humans, this pollution has many negative consequences for the environment. Only source reduction will make it possible to combat this disaster in a lasting and effective way.
- Water quality and users' health:
in this area, Surfrider Europe guarantees the preservation of water quality, particularly in areas of nautical activity, thanks to the monitoring and analysis of various criteria: chemicals that we intend to integrate in the quality controls of bathing well as the bacteriological criterion. All the results of the research carried out over the years support Surfrider Europe's discourse on the desire to make them more accessible to users and homogeneous, on a European scale. In addition, we are also carrying out more local projects, namely the monitoring of an invasive algae "Ostreopsis Ovata" in the Mediterranean, harmful to human health and biodiversity, but also the project "Ocean Friendly Gardens" which aims to create gardens in rain, with the aim of revegetating concrete coastal areas, thus avoiding soil impermeability and allowing for better water filtration.
- Coastal development and climate change:
the coast and coastline change every year with natural phenomena such as erosion or marine submersion. The impact and consequences of these phenomena are greatly aggravated by climate change, rising sea levels, extreme weather events, ocean warming, these are the indirect consequences of human activity. Through its actions, SFE encourages concerted action between communities, companies and citizens, in order to guarantee development projects that respect the coastline and heritage, and that adapt to tomorrow's challenges.
HOW DO YOU BECOME A SURFRIDER VOLUNTEER? AND WHAT IS YOUR ROLE?
Surfrider Europe volunteers are very important to us. We are an association called "base": Surfrider was created by volunteers and without our network of volunteers at Surfrider Europe, we would be nothing. Currently, there are around 1,800 volunteers spread across 46 branches in 12 European countries. It really goes beyond the presence of salaried offices.
It's easy to become a Surfrider volunteer: you just need to be super motivated and want to get involved, without necessarily having any special skills or training. Volunteering with us is simply joining one of the 46 branches across Europe, in order to carry out various missions: from animation, to holding a stand to various events, intervening in schools to raise awareness among students, or demonstrating at the field during certain actions performed by Surfrider.
If you want to join an affiliate or consult volunteer offers, go to https://volunteers.surfrider.eu/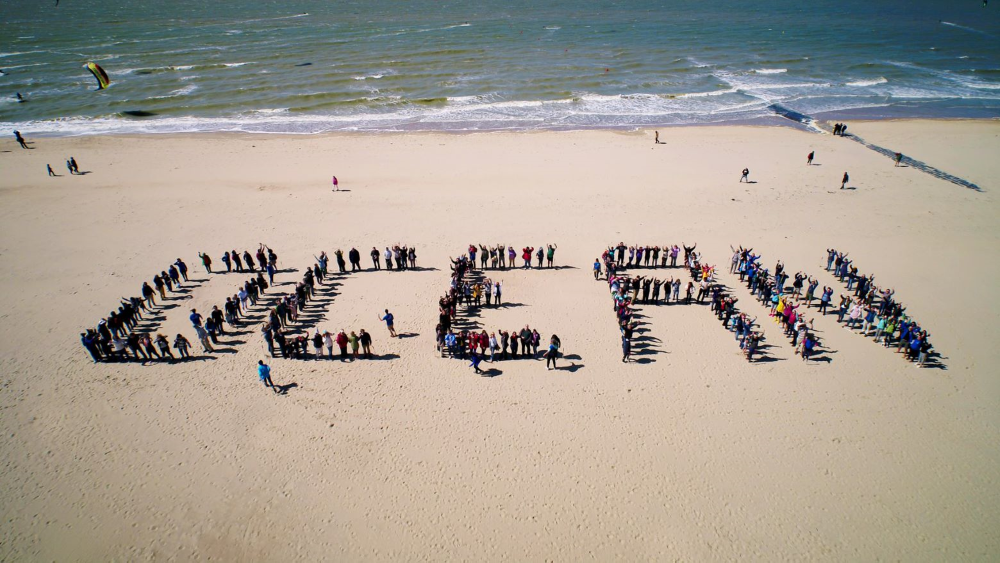 WHAT ARE THE GREAT VALUES THAT BRING EVERYONE ON SURFRIDER?
The values ​​that unite all Surfrider Europe staff are basically a deep love for the ocean. It is also the fact that we share the realization that we are facing a huge problem: whether it is the general state of the ocean, waste pollution, water quality pollution from a chemical and bacteriological point of view, but also from the point of view of chemical and bacteriological view. terms of climate change: global warming, sea level rise... these are real issues and that's what we all see here. It is also the desire for change that connects us all, thanks to our common commitment to this cause, which is beyond us and which moves us on a daily basis.
SOME TIME AGO YOU LAUNCHED THE #JUST1THING CAMPAIGN, CAN YOU TELL US A LITTLE MORE?
The # Just1thing campaign was launched by Surfrider Foundation Europe in collaboration with agency Willie Beamen. The principle is very simple: we wanted to unify the company from a global point of view, offering our entire community - volunteers, ambassadors, employees, financial or operational partners - the commitment to do # just1thing, that is, just one thing for the environment. Because we believe that starting with the commitment to do is the beginning of a process that goes further and further and allows us to go through several steps to follow: for example, starting by refusing straws when ordering a cocktail at the bar, no longer buying food products wrapped in plastic, but also commit to switching energy operators to switch to green energy. It's really the idea of ​​engaging people in a positive way. And it's very important for Surfrider Europe to be able to be positive without being too guilty. This campaign therefore aims to mobilize our entire community around something that can be done and that can change things.
DOES THIS MEAN THAT ON THE INDIVIDUAL SCALE WE CAN ALL CONTRIBUTE TO CHANGING THE LINES?
Absolutely. We are convinced that, individually, we can make a difference. In my opinion, there are two things about individual involvement. The first is really around acts of consumption where we can make a difference, deciding to buy in bulk, go on vacation a little less, or favor public transport instead of taking the bus. ' For me, these are consumer choices. Finally, I consider it very important that the weight we have as an individual has repercussions on the consumption model and on the business model of companies. At the individual level, yes, but all stakeholders must also be involved in this desire for change. Given the urgency we face, it's important that things move quickly.
The second thing is to make a physical commitment to an association. Here we are talking about Surfrider, but it could be for any other association. Get involved as a volunteer or even provide financial support - including small donations because I'm in a good position to know that every donation counts for an NGO or association. Getting involved in this way is also a way to make a difference at the individual level. The best is when there are both: getting involved with your consumption choices, with your routine and also getting involved with an association. But usually when you start doing one, you do both, those are things that are pretty mirrored.
CAN YOU TELL US ABOUT OCEAN INITIATIVES, SURFRIDER EUROPE'S FLAGSHIP PROJECT IN WHICH WE ARE PARTNERS?
The Ocean Initiatives were created in 1995 while Surfrider Foundation Europe has existed since 1990: it is truly Surfrider Europe's oldest project. The Ocean Initiatives is a waste collection program on beaches, lakes and rivers. This is a citizens' program with the principle that anyone in Europe and even in the world - because the initiative goes beyond European territory - can organize a waste collection and join an existing collection, via a platform called www.initiativesoceanes.org, super easy to use. Surfrider is responsible for sending an "organizer kit" with the right number of bags, gloves, a template for requesting authorization from the town hall but also (very important) an organizer kit with the correct sentences to say at the time of collection to make participants aware of what they saw, what they just did, what they picked up, etc. Because beyond the collection there is also the whole awareness aspect which is extremely important to us. There is the time of collection, the time of awareness and above all: the time of quantification. In each kit that we send, there is a balance sheet which invites the organizers and participants to quantify and qualify the waste they will find: 36 plastic bags, 45 cotton swabs, 38 plastic bottles ... This contributes to the participatory science. These data will come back to Surfrider Europe headquarters and allow us to publish every year the "Surfrider environmental report" which lists a top 10 waste found by seafront in Europe. Why is this assessment super important to us? It is our main lobby tool: it is thanks to it that we will go to national and European institutions and tell them "here is what we find on beaches, lakes and rivers in Europe. in a year, what are you doing to combat this? ". The directive which was recently voted at European level at the end of 2018 - beginning of 2019 which bans certain single-use plastic objects everywhere in Europe (such as straws, disposable dishes, expanded polystyrene boxes) is notably based on Surfrider's environmental assessment. Europe. We can clearly see the whole chain here: from what our volunteers do in the field to the data that goes back to Surfrider Europe, and to our lobby work which takes up the 4 levers of the association.